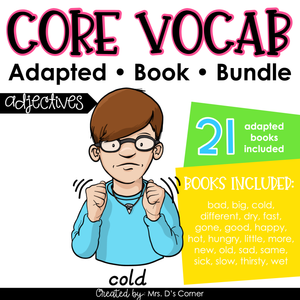 Save Money, Buy the Bundle!
• DIGITAL + PRINTABLE ADAPTED BOOK BUNDLE | Teach your students about core vocabulary words and how to use them with this bundled set of adapted, leveled readers.
>> Try a Core Vocab adapted book for free
here
. <<
• Level 1 - 12 page book with 2 comprehension questions (16 total Velcro answer pieces)
• Level 2 - 12 page book with 4 comprehension questions (20 total Velcro answer pieces)
• Paper comprehension test (
matches the questions in each book - great for keeping data
)
Each adapted book includes a digital adapted book in Google Drive/Google Slides.
There are 21 total adapted books in this bundle.
What core vocabulary words are included?
•
Adjectives
- bad, big, cold, different, dry, fast, gone, good, happy, hot, hungry, little, more, new, old, sad, same, sick, slow, thirsty, wet
What information is covered in this adapted book bundle?
what is the core vocab word, what is the word's defintion, how do you spell the word, the symbol for the word, practice using the word in a sentence
Find more adapted books
here
.
Don't forget about the green ★ to follow my store to get notifications of new resources and freebies!
Thanks for Looking and Happy Teaching!