MRS. D'S RUBBER STAMP COLLECTION:
Since I can remember, I have always wanted to be a teacher.
After 10+ years in the field, I know first hand how exhausting teaching can be, yet how absolutely wonderful and life changing it is. You have to keep yourself healthy, and you need to take time for you. My goal at Mrs. D's Corner is to provide you with the materials you need, saving you time… giving you more time to actually teach. Giving you more time to make a difference. And ultimately giving you more relax time, more YOU time! Now that's something we all need.
So sit back, relax, and let me do all of the hard work for you.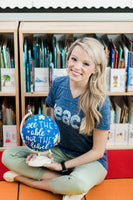 Testimonials
[The Morning Adapted Work Binder] is great for an independent work station while I work with different groups! Easy to grade later by just leaving their answers in the binder!

Laura E.
Using [the Interactive Calendar Routine] I have definitely seen a great improvement in my student's calendar skills. So easy to implement!

Learning Through Love
This is truly an incredible resource. Exactly what I have been looking for: easy, tasty recipes that my students can follow independently. I love the color photos with each step of the recipe. In addition to the recipes, this resource includes sequencing, reflecting, and basic comprehension activities that support my students' cooking experiences in the classroom. 

Tiffany D.
The [Adapted Book Bundle of Bundles] is a fantastic resource to use with students with a variety of needs. So many goals including speech & communication, social emotional, vocabulary development, and comprehension can be worked on with these books.

Room 7 Fun
Yes! Finally! The [Endless Bundle of Data Sheets] is the most thorough and relevant group of data sheets I have ever found!

Shayla M.
Awesome way to communicate with parents! Thank you so much for the [Communication] Stickers and making communication so easy.

SPED Hub Studio