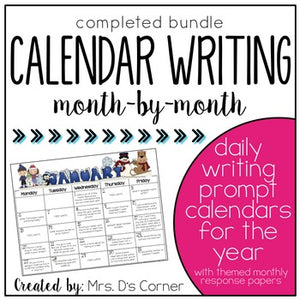 Giving students opportunities to write is essential in everyday learning. This resource includes a black and white and a color version of a calendar of 25 writing prompts per month for each month of the year.
So how many writing prompts do I get?
A total of 300 writing prompts that cover the entire year!
You also get 9 different designs, a 18 total writing prompt response sheets for students to answer the prompts on.
What is the format of the calendars?
The format is Monday through Friday and is not month and year specific (i.e. not dated).
Thanks for Looking and Happy Teaching!