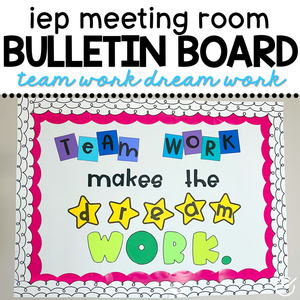 Create an inviting and engaging IEP meeting room place for all IEP team members with this bulletin board. Together as IEP team members we have to work together and collaborate and this display reminds teams to do just that.
PDF of the bulletin board to print and display
The size of the bulletin board display shown in the image is 40" x 28".
Don't forget about the green ★ to follow my store to get notifications of new resources and freebies!
Thanks for Looking and Happy Teaching!