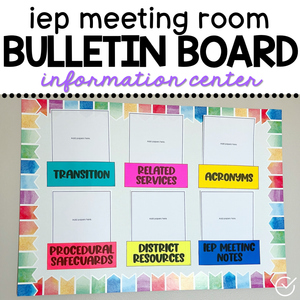 Create an inviting and engaging IEP meeting room place for all IEP team members with this bulletin board. This special education information center display can be in a central office, in an IEP meeting room, or in a common school area (like a hallway).
What is included?
PDF of the bulletin board to print and display
How to file
The size of the bulletin board display shown in the image is 40" x 28".
If you'd like a labeled pocket to be added, please send me an email. I cannot promise it will be added, but we can chat.
Don't forget about the green ★ to follow my store to get notifications of new resources and freebies!
Thanks for Looking and Happy Teaching!