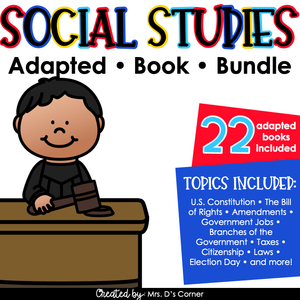 DIGITAL + PRINTABLE | Social Studies Adapted Books Bundle • Teach your students all about 24 different United States Social Studies and Historical topics with this bundled set of adapted, leveled readers.
4. Working for the Government
5. Branches of the Government
9. State VS. Local Government
Each adapted book now includes a digital adapted book in Google Drive/Google Slides.
Don't forget about the green ★ to follow my store to get notifications of new resources and freebies!
Thanks for Looking and Happy Teaching!