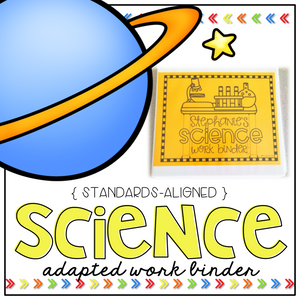 SCIENCE | Functional and differentiated skill work that covers Science standards-aligned topics for grades K-3, this adapted work binder is the perfect addition to any elementary special education classroom or homeschool curriculum.
• 4 Science covers (editable to add student names)
Please note this is for a digital download. No hard good will be sent to you. You will need to print and assemble.
What topics does this adapted binder cover?
• Investigating lab tools
• Weather and seasons, Extreme Weather
• Parts of animals / humans / plants
• Body parts / Human Body Organs
• Planets / Phases of the moon
• Habitats / Ecosystems / Biomes / Landforms
• Earth's Surface (sand, soil, rocks, water), Water life cycle
• Time / Chronological Order
• Plant / Animal life cycles (Frog, Plant, Rock, Apple, Water life cycle)
• Push and Pull / Forces of Motion
Don't forget about the green ★ to follow my store to get notifications of new resources and freebies!
Thanks for Looking and Happy Teaching!