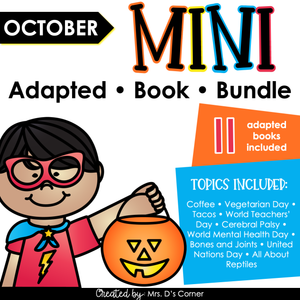 BUNDLE • DIGITAL + PRINTABLE | Level 1 and Level 2 - Use this set of leveled, interactive digital adapted readers to teach your students about 11 different topics during the month of October.
What topics are included?
Where Does Coffee Come From?

All About Bones and Joints
NOTE: There are a few digital adapted books that will be added later this week.
Why these topics for October learning?
• International Coffee Day is October 1
• World Vegetarian Day is October 1
• National Taco Day is October 4
• World Teacher's Day is October 5
• World Cerebral Palsy is October 6
• World Mental Health Day is October 10
• World Pediatric Bone and Joint Day is October 19
• National Reptile Day is October 21
• United Nations Day is October 24
What is included in the download?
Each adapted book comes in two levels, Level 1 and Level 2.
• Level 1 - 14 pages with 2 comprehension questions (20
interactive pieces
)
• Level 2 - 14 pages with 4 comprehension questions (22
interactive pieces
)
• Paper comprehension tests (
matches the questions in each book - great for keeping data
)
Each adapted book includes a digital adapted book in Google Drive/Google Slides.
QUESTIONS ABOUT ADAPTED BOOKS:
Don't forget about the green ★ to follow my store to get notifications of new resources and freebies!
Thanks for Looking and Happy Teaching!