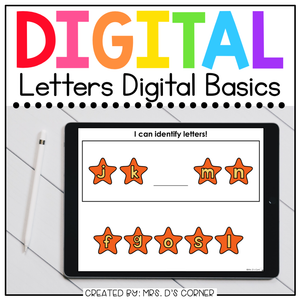 ALPHABET LETTERS DIGITAL BASICS | Functional, differentiated, PAPERLESS skill work that is the perfect addition to your distance learning lesson plans or classroom centers.
• instructions for opening and editing the document (
*must have access to Google Slides™
)
• direct link to copy and save the file to your Google Drive™
What are the digital topics included?
Letter Matching (30 digital pages)

Letter ID (20 digital pages)

Letter Sounds (20 digital pages)

Letter Size + Spacing (20 digital pages)

Alphabetical Order (30 digital pages)
You can find other digital resources >>
HERE.
<<
Nervous or a little curious about going digital in a special needs classroom?
Don't forget about the green ★ to follow my store to get notifications of new resources and freebies!
Thanks for Looking and Happy Teaching!