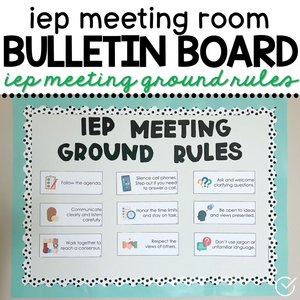 Create an inviting and engaging IEP meeting room place for all IEP team members with this bulletin board that shares the IEP meeting ground rules.
What is included?
PDF of the bulletin board to print and display
The size of the bulletin board display shown in the image is 40" x 28".
If you'd like an IEP meeting ground rule to be added, please send me an email. I cannot promise it will be added, but we can chat.
Don't forget about the green ★ to follow my store to get notifications of new resources and freebies!
Thanks for Looking and Happy Teaching!