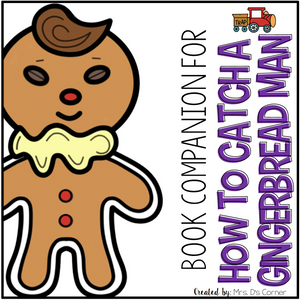 How to Catch a Gingerbread Man Book Companion | This book companion is the perfect cross-curricular addition to your classroom for the holiday season.
• Book Companion Worksheets (sequencing, vocabulary, writing prompts, story sorting map, tracing, graphing, and more!)
• How to Catch a Gingerbread Man Adapted Piece Book Set
• Gingerbread 2D Shapes Task Box
Please watch preview video here.
When do you use book companions?
Book companions are a great addition to any reading or language arts block. They also serve as great print-and-go lessons for any substitute binder or emergency sub plans.
Learn more about using book companions in the classroom

here

.
1. You will need to purchase the book
How to Catch a Gingerbread
by Adam Wallace to go along with the book companion.
Don't forget about the green ★ to follow my store to get notifications of new resources and freebies!
Thanks for Looking and Happy Teaching!