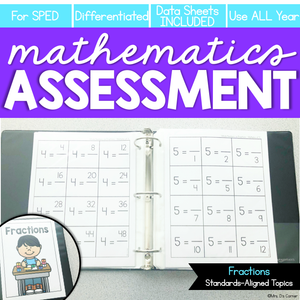 FRACTIONS •
As special education teachers, we often are not provided with appropriate resources to assess our students current levels of learning. Or the resource we are given doesn't meet the needs of all of the learning styles in our classroom. We always make it work, we're superheroes!
But it's time to use our superhero strengths for something else.
What skills are assessed within the Math Assessment?
This Math Assessment bundle includes all of the parts needed to assess your students on the early elementary skills needed in grades K-3. Includes:
•
Number + Operations – Fractions
Express Whole #s as Fractions
Fractions on a Number Line
How do you store all of the parts?
I will store the Math Assessment parts inside of black 3-ring binders, just like the
Literacy Assessment
. Each section of the assessment gets its own binder, but you can use one large binder. Whatever is easiest for you.
I use page protectors to store the assessment pieces inside of each binder. I, also, print the instructions on a piece of colored cardstock and slip it into the first page protector of each binder.
To store the flash cards and non-list items, I use 3-ring binder pockets. I found mine at Office Depot, but you can use any time of pocket or folder to store them. You can also store these pieces in the Iris photo bins and label the bins.
Thanks for Looking and Happy Teaching!