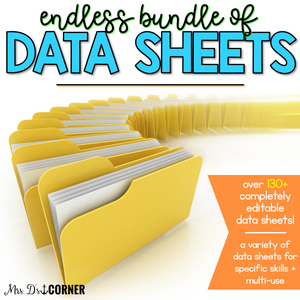 Data sheets are a special educator's best friend. This endless bundle of editable data sheets is the perfect addition to any special education classroom.
What will be included in this endless bundle?
• 176 editable data sheets (
edit to fit your needs!
)
• 3 how-to-edit (
and print
) pages in the PowerPoint
• PDF version of all data sheets (
print and go!
)
What types of data sheets will be included in the endless bundle?
• General IEP folder organization
• Request for Assistance / Nurse Forms
• Student Questionnaires / Self-Evals and Assessments
• Observation Forms / Teacher + Specialist Reports
• IEP Meeting Dates Tracking
• Transition, Career Choices, + Vocational Assessment
• Accommodations / Modifications
• FBA, Behavior, ABC Charts
• Task Analysis + Multi-Step Tasks
• Reading / ELA (general + elementary skills)
• Toileting + Life Skills
What does 100% editable mean?
This means you can edit ANY part of the any of the data sheets included in this bundle using Microsoft PowerPoint. A non-editable PDF version is also included.
Yes, some of these data sheets are identical to the data sheets in all of the IEP Caseload Binder.
BUT
there are data sheets included in this bundle that are not and will not ever be available anywhere else.
PLUS
this endless bundle will include any and all future data sheets.
Currently
there are
76 data sheets
in this bundle that are
not
included in any other resource.
Don't forget about the green ★ to follow my store to get notifications of new resources and freebies!
Thanks for Looking and Happy Teaching!