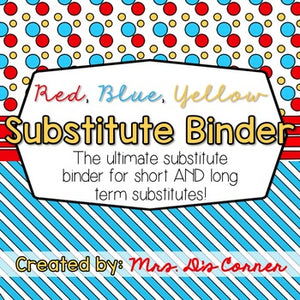 EDITABLE * Never feel unprepared for a substitute again with this dual-purpose, editable substitute binder for both short and long term substitutes. This binder is intended to provide you, the teacher, with everything you need to have well prepared day(s) planned for your substitute teacher. Have an organized, well put together substitute binder for your days out that is not only easy to put together, but easily customizable to fit you and your classroom!
See it ALL by watching the video preview
HERE
.
*This video showcases a different themed substitute binder, but the content is the same.*
• Dear Substitute Letter (written and blank)
• Schedule tab with Daily Schedule, Specials, and Pull Out Schedule pages
• Class Rules and Routines (5 pages)
• Class List / Class Info / Classroom Jobs
• Seating Chart (2 editable pages)
• IEPs / 504s with shapshot pages for both, Services Schedule
• Behavior Management with description page, behavior log, and daily behavior tracking sheet to send home with students
• Medical Concerns with medical concerns and allergies pages
• Need a Hand? Ask these students
• Dismissal and After School and How We Go Home
• Note to Teacher page for subs to share about their day
• School Info with important people page
• Emergency Info for fire drill, lock down, and severe weather procedures
• Class Tour (5 pages) to share pictures and details of your classroom
• Calendar (12 pages) to share important dates
• Parent Info for parent contact and parent volunteers
• Passwords to share teacher logins and student logins
• Assessments (6 pages) to record how classroom assessments work and are given in your class
• Standards and Rubrics tab
• History / Social Studies tabs
*All academic tabs come with a page to record how you teach that subject*
• Long Range Plans / Year at a Glance with two 2-page calendars and 2 versions of long range lesson planners (4 pages)
• Duties with pages to record morning and afternoon duties
• Centers with pages to record how reading and math centers function in your classroom
• Student Info with a page to put student pictures, and share classroom birthdays and how they are celebrated in your classroom
• Contact Log with pages to record parent contact
• Parent Conferences with 1 reminder page
• How Things Work with 10 pages to share how Inclusion, Resource, Reading Buddies, Free Choice / Free Time, Technology, and Specials work in your classroom
• Testing Procedures with 2 pages to share information about state testing
• Procedures to share special classroom procedures, Team procedures, and School procedures
• Grades tab with editable grade book page
• Copies tab with a page for keeping track of copies and instructions for making copies
Old version of this substitute binder is also included in this download at no cost.
Page count: 122 editable PowerPoint pages, 168 PDF pages. (Old version: 50 PDF pages, 21 editable PowerPoint pages).
*Take a look at the preview document to see everything that you get!*
Am I missing something in this binder?
Or not sure if it's there? Send me a Q&A!
*Please note that the layout, clip art, and titles are not editable. The binder is editable in PowerPoint for you to edit text boxes to input your own information.
Don't forget about the green ★ to follow my store to get notifications of new resources and freebies!
Thanks for Looking and Happy Teaching!