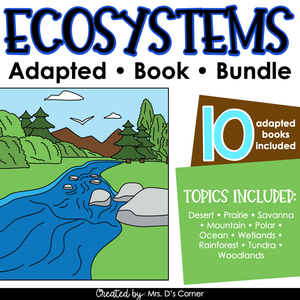 DIGITAL + PRINTABLE | Teach your students about all of the Earth's ecosystems with this bundled set of adapted, leveled readers all about the each ecosystem.
What is included with each book?
• Level 1 - 14 page book with 2 comprehension questions (16 total Velcro answer pieces)
• Level 2 - 14 page book with 4 comprehension questions (22 total Velcro answer pieces)
• Paper comprehension test (
matches the questions in each book - great for keeping data
)
Each adapted book now includes a digital adapted book in Google Drive/Google Slides.
What information is covered in these adapted books?
the name and definition of the ecosystem, where it can be found, the temperature, foliage in this ecosystem, animals that may live here, humans and this ecosystem, how we can protect this ecosystem, and why this ecosystem is important
Don't forget about the green ★ to follow my store to get notifications of new resources and freebies!
Thanks for Looking and Happy Teaching!