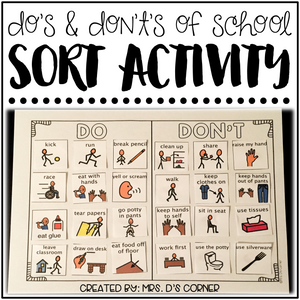 Social skills allow us to communicate and problem solve. For students with special needs and more specifically, our friends with Autism, we need to teach them these skills.
Knowing how to act in school is an important social skill. Certain inappropriate behaviors are not tolerated and students need to be able to distinguish appropriate from inappropriate behaviors.
One sorting activity with images depicting appropriate and inappropriate school behaviors.
You can use this in two ways:
1. Give each student a blank mat and set of sorting cards. One by one, sort the cards and glue them to the sorting mat. This works great during whole group instruction.
2. Print the sorting mat and cards on cardstock and laminate. Use Velcro and create an interactive page for students to use and reuse. This works great for individual instruction or a quick social skills reminder lesson (as shown in preview).
Don't forget about the green ★ to follow my store to get notifications of new resources and freebies!
Thanks for Looking and Happy Teaching!
Email: mayer-johnson.usa@mayer-johnson.com
Web site: www.mayer-johnson.com