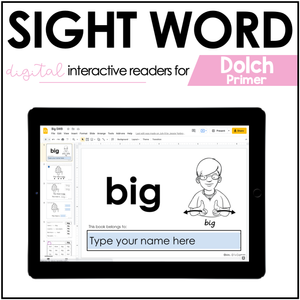 PRIMER DOLCH SIGHT WORD READERS • Interactive, digital readers for the Dolch Primer word list.
These sight word booklets were created out of a desperate need for my own self-contained classroom. Students in my classroom, verbal and nonverbal, were struggling with identifying and learning sight words... but they had IEP goals to meet and I had zero curriculum to help them achieve their annual goals. So I created these sight word readers for them.
One interactive sight word reader for each word on the Primer Dolch word list:
• 52 (fifty-two) total digital sight word readers
• instructions for opening and editing the document (
*must have access to Google Slides™
)
• direct link to copy and save the files to your Google Drive™
What does each book look like?
Each printable book is 8 pages.
Each sight word booklet also includes a certificate as the last page.
Don't forget about the green ★ to follow my store to get notifications of new resources and freebies!
Thanks for Looking and Happy Teaching!