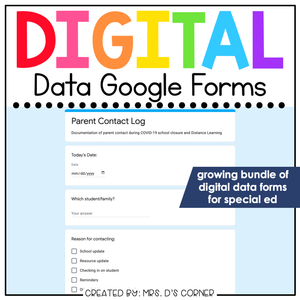 Digital Data Forms | Data sheets are a special educator's best friend. This bundle of digital data sheets (using Google Forms) is the perfect addition to any special education classroom.
How many digital data sheets are included?
You will find 143 digital data forms included in this bundle.
Please
click here
for a preview to try a free Parent Contact Log form.
Watch the preview video to see 3 forms.
You will need a Google account to be able to edit and use these forms.
What types of data sheets
MAY
be included in the digital bundle?
• General IEP folder organization
• Request for Assistance / Nurse Forms
• Student Questionnaires / Self-Evals and Assessments
• Observation Forms / Teacher + Specialist Reports
• IEP Meeting Dates Tracking
• Transition, Career Choices, + Vocational Assessment
• Accommodations / Modifications
• FBA, Behavior, ABC Charts
• Task Analysis + Multi-Step Tasks
• Reading / ELA (general + elementary skills)
• Toileting + Life Skills
Don't forget about the green ★ to follow my store to get notifications of new resources and freebies!
Thanks for Looking and Happy Teaching!