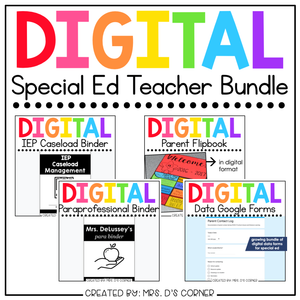 Editable + Digital Special Education Teacher Bundle for Back to School | Here's what is included:
Digital + Editable IEP Management Binder | Being a caseload manager and special education teacher is a wonderful experience that, unfortunately, includes tons of special education jargon and paperwork that can sometimes become overwhelming. This digital binder is your key to tidying up your daily caseload, organizing key special education information, and focusing more on your students, rather than the paperwork.
What is included in the digital IEP binder?
73 digital pages in Google Slides

Team Contact Info (multiple versions)

Student Profile + IEP at a Glance pages

IEP Meeting Checklist + Reminder Slips

IEP Goal Progress Monitoring Pages (5 general pages)

Accommodations + Modifications

Additional digital binder divider pages
This digital binder does

not

include any digital data forms or printable data forms. For digital data forms,

click here

. For printable data forms,

click here

.

This resource is digital using Google Drive/Google Slides.
Digital + Editable Para Binder for Special Ed | This informative para binder will help you help assist your classroom support staff, new or returning, and be a supportive way to share expectations and duties, along with other important student and classroom information… all while keeping it all in one, organized, and easy-to-find spot.
What is included in this digital para binder?
90+ total digital pages in Google Slides

Expectation + Duty Lists/Recommendations

IEP at a Glance + Student Snapshot

Accommodation / Modification Cheat Sheet

Para report, observation form, and FBA questionnaire
This resource is digital using Google Drive/Google Slides.
Digital Data Forms | Data sheets are a special educator's best friend. This growing bundle of digital data sheets (using Google Forms) is the perfect addition to any special education classroom.
How many digital data sheets are included?
This is a growing bundle, so there is no set number for completion. However, there will be at least 75+ digital data forms that you will be able to edit and utilize in your classroom or via distance learning.
Please
click here
for a preview to try a free Parent Contact Log form.
You will need a Google account to be able to edit and use these forms.
What types of data sheets MAY be included in the digital bundle?
• General IEP folder organization
• Request for Assistance / Nurse Forms
• Student Questionnaires / Self-Evals and Assessments
• Observation Forms / Teacher + Specialist Reports
• IEP Meeting Dates Tracking
• Transition, Career Choices, + Vocational Assessment
• Accommodations / Modifications
• FBA, Behavior, ABC Charts
• Task Analysis + Multi-Step Tasks
• Reading / ELA (general + elementary skills)
• Toileting + Life Skills
This back to school digital parent handbook is perfect for in-class learning and distance learning, all while giving parents access to important key information for your classroom and school.
• Editable - the pages will be editable for you to change the text.
• 8 tabs - there will be at least 8 digital tabs for you to add information to.
• Sample - a sample digital parent handbook will be included for you to view, incase you need inspiration or aren't sure what to put in each tab.
Don't forget about the green ★ to follow my store to get notifications of new resources and freebies!
Thanks for Looking and Happy Teaching!