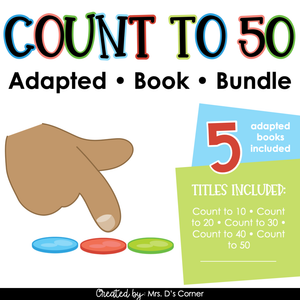 DIGITAL + PRINTABLE | Counting to 50 Adapted Books | Teach your students all about numbers and counting from 0-50 with this bundled set of adapted, leveled readers.
What titles are included?
Counting to 20 (2D shapes)

Counting to 30 (ocean animals)

Counting to 40 (counting math bears)

Counting to 50 (counting tally marks)
Each adapted book now includes a digital adapted book in Google Drive/Google Slides.
What does each title include?
Each book comes in a numbered pages and not-numbered pages version. Use the numbered books in order to count sequentially, or use the not-numbered books in any page order you'd like to increase the difficulty of the task.
• Level 1 - 14 page book with 2 comprehension questions (18 total Velcro answer pieces)
• Level 2 - 14 page book with 4 comprehension questions (22 total Velcro answer pieces)
• Paper comprehension tests (
matches the questions in each book - great for keeping data
)
Don't forget about the green ★ to follow my store to get notifications of new resources and freebies!
Thanks for Looking and Happy Teaching!