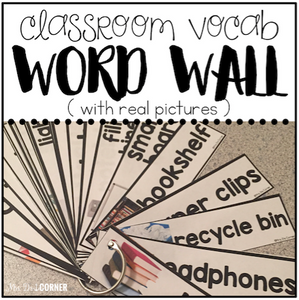 SET 3 * This functional word wall with real life pictures is perfect for any classroom. Support your students' communication needs by giving them a visual, core vocabulary word wall.
Core vocabulary is such an important aspect of any classroom, especially in a special needs classroom. Bring the traditional idea of a content word wall in to your special needs classroom with this Core Vocabulary Word Wall Starter Kit.
GREAT FOR A SPECIAL NEEDS CLASSROOM OR SPEECH ROOM!
Not sure how to utilize a WORD WALL in your classroom?
LEARN MORE HERE.What is included?
• List of all words included
• 70 word wall cards with REAL pictures
Connect with me:
•
Newsletter
•
Blog
•
Facebook
•
Instagram
•
Pinterest
•
Don't forget about the green ★ to follow my store to get notifications of new resources and freebies!
Thanks for Looking and Happy Teaching!