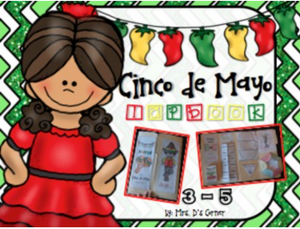 Celebrate Mexico defeating the French army this Cinco de Mayo with this commemorative foldable lapbook. Contribute to the Mexican celebration and pride by teaching your students about this important cultural holiday.
• how to for each foldable with picture guide
What information does this lapbook supplement?
• 4 W's of Cinco de Mayo (who, what, where, when)
• Cinco de Mayo VS 4th of July Venn diagram
• What my Cinco de Mayo party would look like
• 4 facts about Cinco de Mayo
• Spanish to English vocabulary notecards and pocket
• My Cinco de Mayo accordion Story
• Color page for the back of the folder
Check out the preview to see what's included. Stop by
this blog post
for more information on this lapbook.
• manila folders or construction paper
• colored pencils / markers / crayons
Don't forget about the green ★ to follow my store to get notifications of new resources and freebies!
Thanks for Looking and Happy Teaching!