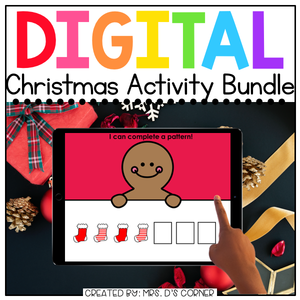 Digital Activity Bundle for Christmas | Functional, differentiated, and now PAPERLESS skill work that is the perfect addition to your Guided Reading, Guided Math, and ELA and Math rotations and centers. This digital basics set of digital workpages will help your students practice basics K-2 skills, and once mastered, can be a set of skills they complete successfully and independently.
• 15 (fifteen) different activities (
please read list below to see skills practiced
)
• instructions for opening and editing the document (
*must have access to Google Slides™
)
• direct link to copy and save the file to your Google Drive™
What skills are practiced?
Graphing

- 9 pages - 2 activities: understand and answer questions about a graph, create a graph

Groups

- 22 pages - 2 activities: making equal groups of objects

Letter ID

- 16 pages - 2 activities: match letters, identify missing letter

2D Shapes

- 34 pages - 2 activities: identify 2D shapes, label 2D shapes by name

Matching Characters

- 15 pages - 2 activities: match character's (2 and 3 sort)

Patterns

- 13 pages - 2 activities: complete a pattern, create a pattern

Decorate a Tree

- 11 pages - 1 activity: decorate a Christmas tree

Fill Santa's Bag

- 21 pages - 1 activity: use the notepad to see what to put in Santa's bag

Naughty or Nice

- 28 pages - 1 activity: read the situation and determine if the behavior is naughty or night

Geography

- 40 pages - 1 activity: place Santa on the correct part of the map

Digraphs

- 55 pages - 1 activity: fill in the missing digraph for each word

Secret Picture Puzzles

- 10 pages - 10 activity: Santa's disguise, label 2D cookie shapes, labeling pictures with words, simple multiplication, label CVC words, label each calming strategy, label idioms, label fractions, label human organs, read sentence and match to image

Counting to 20

- 32 pages - 2 activities: 1:1 correspondence, count objects

Word Families

- 24 pages - 1 activity: move word families inside candy cane

Fulfill an Order - 11 pages - 1 activity: elf sweater shop (BONUS)
Nervous or a little curious about going digital in a special needs classroom?
You can find other digital resources >>
HERE
<<
Don't forget about the green ★ to follow my store to get notifications of new resources and freebies!
Thanks for Looking and Happy Teaching!