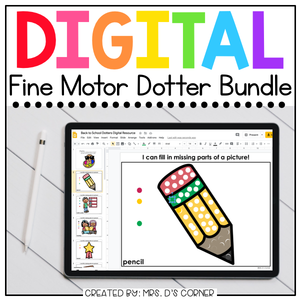 Digital Fine Motor Dotter Activities | Fine motor practice is essential to any student's ability to write, tie shoes, button buttons, zip up a coat or backpack... so many life tasks depend on fine motor skills. Help develop these essential fine motor skills for each of your students with this digital activity bundle.
What is included with each theme?
• at least 8 different fill in the dot activities for each theme
• instructions for opening and editing the document (*must have access to Google Slides™)
• direct link to copy and save the file to your Google Drive™
Please watch the preview video above to see a sample of what is included and how a student will complete the activity.
What themes are included?
Martin Luther King Jr. Day

End of the Year / Graduation
Don't forget about the green ★ to follow my store to get notifications of new resources and freebies!
Thanks for Looking and Happy Teaching!