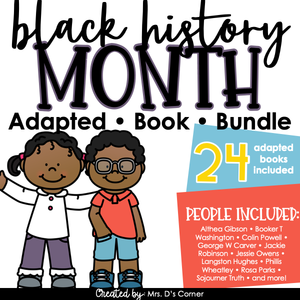 DIGITAL + PRINTABLE | Black History Month reflects on and honors past and present African American people from the time of slavery to today. Use this set of leveled, adapted readers to teach your students about 12 famous African Americans who helped change history.
What adapted books are included?
•
George Washington Carver
Each adapted book now includes a digital adapted book in Google Drive/Google Slides.
Clip art updated 10.9.2020.
How do I put these adapted books together?
Read this
BLOG POST
to see how I put them together, picture by picture.
• Print on card stock and laminate.
• Cut on the dotted line on each page.
• In the upper left corner of each page is a grey circle. Hole punch here and use a 1" binder ring to hold the book together.
• Put a piece of Velcro in each empty box or circle. Put a piece of Velcro on the back of each answer piece.
Don't forget about the green ★ to follow my store to get notifications of new resources and freebies!
Thanks for Looking and Happy Teaching!