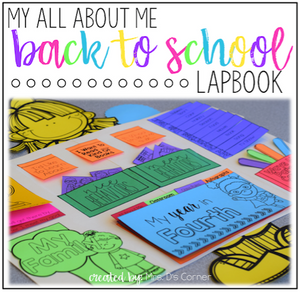 As the school year begins, it's always fun to learn more about your students in a way that celebrates individuality and promotes creativity! Use this beginning of the year memory lapbook as a creative way for students to set goals, express their favorites, and have something to look back on for their school year in your grade.
Watch a video preview
here
.
You are learning about your students and they get to learn more about each other.
This would make a great activity for the first week of school or as something to showcase on Open House / Back to School night!
• Over 20 different foldables
• grades 1 through 6 usability
What is included in the updated version?
• 2 boy pop ups, 2 girl pop ups, and 1 friend pop up (head and feet included)
*JUST ADDED 3 MORE BOY AND 3 MORE GIRL OPTIONS*
• Grade level cover circles (1st - 6th)
• A special welcome note from my teacher (front)
• Me and My Teacher / I want my teacher to know that... (front)
• My favorites this year (subject, sport, color, holiday, season, book, movie, food, song, and tv show).
• My Year in ____ (All About Me, Classroom, Class Rules, Autographs)
• This is my year (goal setting flaps)
• Mean / Nice Behavior pockets (with 8 sorting pieces)
• Ways my parents can help me this year (pocket)
2 options for the back - updated option includes:
• My New Friends (with 16 "Find Someone Who" flaps)
What is included in the "old" version?
• 2 boy and 2 girl cover options
• setting goals for the school year
• self portrait (great to look back on to see their growth!)
• my favorites this year (subject, sport, color, holiday, season, book, movie, food, song, and tv show).
• adjectives to describe the student
• How I feel about starting __ grade...
• My parents can help by...
• I'd like to learn about...
• I want to read _____ kind of books.
• In school, I'm proud that...
• My new friends (accordion)
• How my name looks (on the backpack on the back)
• manila folders or construction paper
• colored pencils / markers / crayons
Don't forget about the green ★ to follow my store to get notifications of new resources and freebies!
Thanks for Looking and Happy Teaching!