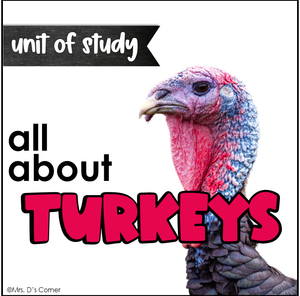 TURKEY THEMATIC UNIT | Get your students excited about turkeys with this cross-curricular unit! Your students will know all about turkeys and the turkey life cycle, and be excited to share the new information they've learned.
Information Reader P.21-35

Information Posters P.36-41

Book Recommendations P.42

Graphic Organizers P.43--61

Fact or Opinion Game P. 66-70

Sight Word Reader P.103-108
Visual Recipe for Turkey Snack Bags

Sample Lesson Plan for the Unit + other turkey activities
Please look at the preview video here to see what is included.
Don't forget about the green ★ to follow my store to get notifications of new resources and freebies!
Thanks for Looking and Happy Teaching!