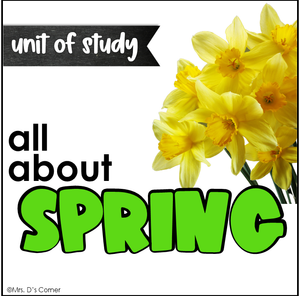 SPRING THEMATIC UNIT | Get your students excited about spring with this cross-curricular unit! Your students will know all about spring and be excited to share the new information they've learned.
What is included?
Vocabulary Cards P.3-21
Information Reader P.22-36
Information Posters P.37-43
Book Recommendations P.44
Graphic Organizers P.45-58
Writing P.59-62
Spring Facts Game P.63-67
Graphing P.68-70
Art Activities P.71-73
Science/STEM Activities P.74-77
Math Activities P.78-89
Number Puzzles P.90-95
Five Senses of Spring P.96-102
Sight Word Reader P.103-107
Also includes:
Sample lesson plan for the unit
Cracker chick visual recipe
Feed the rabbit letters, colors, and shapes center activity
Please look at the preview to see what is included.
Connect with me:
• Newsletter • Blog • Facebook • Instagram • Pinterest •
Don't forget about the green ★ to follow my store to get notifications of new resources and freebies!
Thanks for Looking and Happy Teaching!