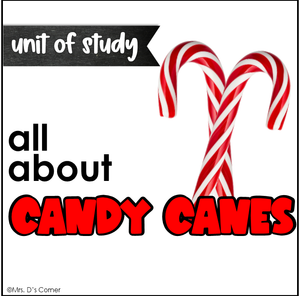 CANDY CANE THEMATIC UNIT | Get your students excited about candy canes with this cross-curricular unit! Your students will know all about candy canes and the history of the candy cane, and be excited to share the new information they've learned.
Information Reader P.19-33

Information Posters P.34-39

Book Recommendations P.40

Graphic Organizers P.41-54

True or False Game P.58-62

Science Activities P.69-73

Number Clip Cards P.90-92

Sight Word Reader P.93-98
Sample Lesson Plan for the Unit + another candy cane activity
Please look at the preview video to see what is included.
Don't forget about the green ★ to follow my store to get notifications of new resources and freebies!
Thanks for Looking and Happy Teaching!