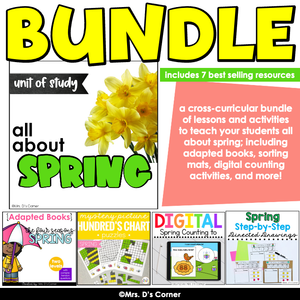 An all-encompassing unit about Spring. Teach your students about spring, and then use the supplemental activities, task boxes, visual recipe, and more!
WHAT IS INCLUDED?

Vocabulary Cards P.3-21
Information Reader P.22-36
Information Posters P.37-43
Book Recommendations P.44
Graphic Organizers P.45-58
Writing P.59-62
Spring Facts Game P.63-67
Graphing P.68-70
Art Activities P.71-73
Science/STEM Activities P.74-77
Math Activities P.78-89
Number Puzzles P.90-95
Five Senses of Spring P.96-102
Sight Word Reader P.103-107
Also includes:
Sample lesson plan for the unit
Cracker chick visual recipe
Feed the rabbit letters, colors, and shapes center activity
Spring Adapted Books
DIGITAL + PRINTABLE | Spring has sprung... but what does that mean? What is Spring? Use this set of leveled, adapted readers to teach your students all about the season of Spring!
• Level 1 - 12 page book with 2 comprehension questions (16 total Velcro answer pieces)
• Level 2 - 12 page book with 4 comprehension questions (20 total Velcro answer pieces)
• Paper comprehension tests (matches the questions in each book - great for keeping data)
JUST ADDED: Digital Adapted Book for use in Google Drive/Google Slides for both Level 1 and Level 2.
SPRING STEP-BY-STEP DIRECTED DRAWINGS | Add visual motor activities to your classroom with these step-by-step directed drawings for the spring season.
• 10 directed drawing mats (in color and b&w)
• bee, bird, birdhouse, butterfly, caterpillar, daisy, ladybug, nest, tulip, and umbrella
• Drawing mat
• Reflection page - using picture responses (in color and b&w)
Spring Digital Counting Activity
SPRING COUNTING DIGITAL | Functional, differentiated, and now PAPERLESS skill work that is the perfect addition to your early learning rotations and centers. This digital basics set of workpages will help your students practice basic skills, and once mastered, can be a set of skills they complete successfully and independently.
Spring Counting - 25 pages - count how many and then move that number
FREE Butterfly Lifecycle Creativity
• Picture "How To" guide to putting it all together
• 3 different wing versions (for differentiation)
• First, Then, Next, Last writing response paper
• Spring Coloring Page (put it all together to make a bulletin board display)
Raindrops Matching Mats and Activities
RAINDROPS * A great, low-prep task for students to complete, students will need to discriminate between the different colors to re-create the patterns on the activity cards.
• 4 mats/bases
• 32 different activity cards
The patterns increase in difficulty from 1 to 32.
Spring Mystery Picture Hundred's Chart Puzzle
• Instructions on how to use
• 12 different puzzles (with 3 levels of difficulty)
• Each level of puzzle includes an end question, "My mystery picture is a..." with 4 picture choices (one being the correct answer choice).
HOW DO I USE THESE ACTIVITIES?
How do I use the book companion?
You can read this
blog post here
to read more about how I used these same activities with the Old Lady Swallowing a Frog.
How do I put these adapted books together?
• Print on card stock and laminate.
• Cut on the dotted line on each page.
• Single hole punch for binder ring use, or bind with a binding machine.
• Put a piece of Velcro in each empty box or circle. Put a piece of Velcro on the back of each answer piece.
Don't forget about the green ★ to follow my store to get notifications of new resources and freebies!
Thanks for Looking and Happy Teaching!